---
The Electrostatic Discharge Control Training Program
---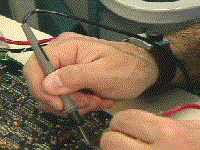 Over the last few decades, the machines we use in industry and in our daily lives have changed almost beyond recognition. The evolution of integrated circuits and other electronic components has made technology far more reliable than anyone 50 years ago could have imagined. But along with increased reliability has come increased dependence. We need to know that these electronic components will perform time after time in the critical situations in which we've entrusted them.
Electrostatic discharge (ESD) is an often-unnoticeable hazard to these electronic components. Without even knowing it, we can be destroying the components we handle. The danger is even greater because many times these failures don't occur until days or weeks after the product was damaged -- when the components are in use in products, and people are depending on them.
The availability of a uniform and systematic training program in the face of multiple business sites or work shifts is the key to effectively controlling unnecessary damage from electrostatic discharge.
Interactive Media Communications, with the participation of leading experts from Compaq Computers and AT&T, has developed The Electrostatic Discharge Control Training Program, designed to meet EOS/ESD Association standards for ESD control. The program covers most manufacturing and service environments including clean rooms and high-voltage hazard areas, and provides the essential elements of a comprehensive ESD control training program.
Course Content:
The Electrostatic Discharge Control Training Program includes three individually-sold VHS videotapes that cover the following material:
Tape 1: Electrostatic Discharge Control (Item # 3607-1)
Lesson 1: Static Electricity
Overview of Static Electricity
Mechanisms and environmental conditions for static electricity generation
Lesson 2: Electrostatic Discharge
Definition
Causes
Impact
Consequences
Benefits and Principles of ESD Protection
Lesson 3: Generation of Static Electricity
Generation Objects and removal from controlled areas
Controlling charges: Insulators, Ionizers and Topical Anti-Static Treatments
Lesson 4: Personal Grounding
Different types of grounding: Hard, Resistive, and Common Point
Wrist Strap Testing
Wrist Strap Use
Lesson 5: Storage and Handling of ESD-Sensitive Components
Packaging
Storage
Transportation (with and without protective packaging)
Tape 2: Controlling ESD In The Manufacturing Environment (Item # 3607-2)
Lesson 6: ESD Protection in the Plant
General Concepts: entrance controls, static dissipating floor, mobile equipment, protective clothing and footwear.
Workstations: general purpose, test equipment, stand-up process, high voltage, etc.
Workstation features and control procedures.
Tape 3: Controlling ESD In The Service Environment (Item # 3607-3)
Lesson 7: ESD Protection in the Field
Characteristics, control tools, correct procedures, high voltage environment, etc.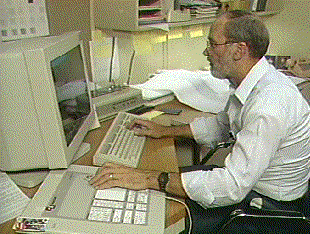 Like the CD-ROM , IMC's VHS videotape version of the Electrostatic Discharge Control Training Program contains the same engaging dramatizations of real-life scenarios with live action video and audio, high quality graphics and animation.
The accompanying Student Workbook (Item # 3049) contains practice questions and exercises to test the learner's understanding of the material presented throughout the course, as well as additional reference material.
The program is available as a complete set including Tape 1, Tape 2, Tape 3, and the Student Workbook. (Item # 3607-A3)
This VHS videotape product is normally sold in NTSC format. Contact IMC for PAL format.
---
For more information, please contact:
---
---
| Home Page | Company Profile | Product Information | Overview of Interactive Training | Courseware Development Program | Register for Future Announcements |
---
Copyright (c) , Interactive Media Communications, Inc.
All Rights Reserved